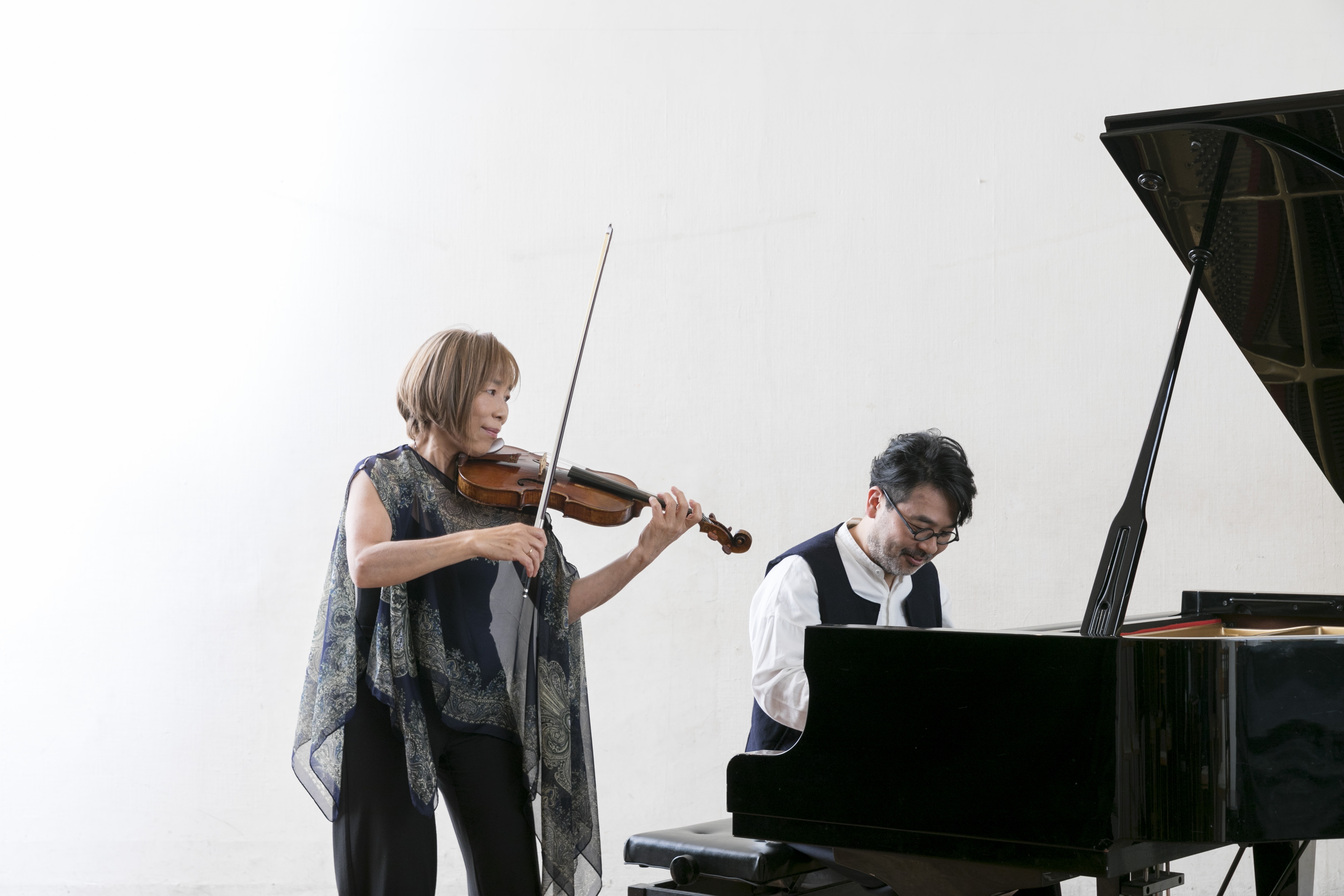 Aska &Masaki duo 2nd album 「fru-fru 」
Thank you for visiting the"Fru-Fru"crowdfunding CD project.
Aska Maret (Kaneko) is a violinist/composer, who has performed in more than 50 countries. She is known for her uncanny ability to give voice to the vibrations of the natural world with her violin. Masaki Hayashi is a pianist/composer who fuses tranquility with freedom in his performances. This is the second album born from a collaboration between these two artists. The album transcends the framework of jazz, classical, world and ambient music. We hope it brings you joy and relaxation.
The second collaborative album by violinist Aska Maret and pianist Masaki Hayashi.
duo is being produced.

Crowdfunding, which has already begun to take root in the world, connects directly the creativity of artists and the curiosity of fans. It is an epoch-making system that allows for the high quality creation of something new and beautiful with a small capital investment.

Our first duo album [Delicia] was also made possible with Crowdfunding and released by "Twin Music." The success of this album is evident as the original run quickly sold out and it is now in its second reprinting.

The album title "Fru-Fru," contains a multitude of meanings.
In Japanese there are several different kanji characters with entirely distinct meanings that can all be pronounced as "Fru."
The term can mean shake, temble or waver. "Fru" is a technique that can relax one's mind and body by gently or vigorously shaking one's extremities while keeping one's core centered. As a verb "Fru" means to fall as in falling rain or snow; the energy of this universe falls equally on all people and on all beings.
In transliteration from English "Fru" also means in Japanese to become full! Our cells are filled with delicate light and purity.

The album cover is the same combination as the first duo CD, Delicia. The image is from a portion of the new oil painting by the abstract painter Reiko Saito, who is 93 years old!. The design work is by the art director Tadashi Kitagawa.

Inspired by her upbringing by an abstract painter, Aska hopes her recent album covers, when presented in a room together, will take the listener on a visual journey to the halls of a museum as well as to a world of sound.

We chose "Kioicho Salon Hall" as the recording location because it has a clear spirit and great energy. The recording venue has a big impact on the artists and the performance itself.

The piano used on this album is a Steinway D type, a full concert grand. A wonderful piano tuner, Mr. Takeshi Miyazaki, was able to tune this Steinway so that each note has an astounding transparency and clarity long after the key has struck.

For this album, we worked with the wonderful recording engineer Mr. Taiji Okuda, who has engineered many of Masaki Hayashi's CDs.
Numerous special microphones were placed at various distances from the piano and the violin for this recording. Neither Aska nor Masaki made use of headphone monitors during the recording.

The notes that left their instruments intermingled naturally in real time and were picked up by the mics that were arranged by Mr. Taiji Okuda, who has a deep understanding of acoustic space. Of course, recording an album as if it were a live performance without sound isolation booths creates its own unique challenges. This is especially true when the artists are performing quite close to one another as Masaki and Aska prefer. Each individual microphone picks up the sounds of both instruments. The mics and the space itself have reciprocal affects on one another. These conditions make the subsequent mixing of the album especially complex. We are looking forward to hearing the results that our exceptional engineer, Mr. Taiji Okuda, can achieve.

We are currently working on the post-recording production with the goal of releasing the album in the spring of 2021.
Aska and Masaki are striving to create new music even in these difficult times.

Will you support us during the production stage and share in the process of creating this unique collaborative work of art? Masaki, Aska and our production team are highly appreciative of you and greatly in your debt. We look forward to bringing this album to you and to the world.

By Aska,Masaki&Fru-Fru making team
85% goal

Closed

All in method

This project was closed at 23:59, 2021/03/31.
Sample tracks
Gentle isle(Sian)

Morning Serenity

Farewell

Aventurecsence
A new activity report
Offer
Staff Pass is available with every single offers for free.